Home
Our Resort
Accommodations
Spa
Day Visits
Evening Spas
Group Spas
This Week
Private Events
Clothing Optional
Rates
Directions
Reservations
Dining
Photo Gallery
Activities
Gift Certificates
Future Expansion
Links
Contact Us
Reservations
877-928-2827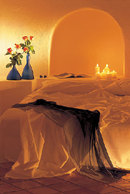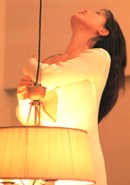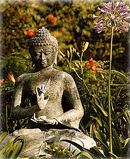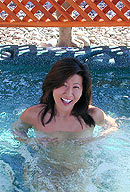 Reviews





June 2007
944 Magazine

Page 82

Courtesy Shorts No More
An eye-opening journey through nude America
By Karen Knighton
Both females thought of themselves as open-minded, nonjudgemental and respected members of society. Both fleeing foxes were looking for an adventure - without having to risk their lives or, more particularly, strain their muscles. And both dauntless broads were looking to experience something new and titillating. What they didn't realize was all of those superficial thoughts, ideas and assumptions were about to mean absolutely nothing. For when they arrived at their destination, they would be wearing absolutely nothing. Nothing

At last they arrived at Sea Mountain Resort, an all-nude, all-adult, romantic hideaway nestled among the tiny mirage of a city, Desert Hot Springs. The foreboding wind was whipping wildly at their hair, and one of the lasses - without really thinking, without really knowing, without really being prepared - reached up and rang the doorbell. and before reality could set in a soft-spoken, redheaded man, wearing knee-length plaid shorts appeared, escorting them into a whole new world. Within seconds their view went from following the colorful, checked squares of his shorts to being immersed in a sprawling pool of, well, naked people. Not that the naive newbies didn't know what to "expect," they just didn't realize it would be so startling.

After being walked around (while clothed) and introduced to couple after couple of shiny, happy nakedness, the dames were shown to their room - and left with their preconceived minds spinning faster than a hamster running on a wheel made of meth. For all of the accidental hot tub excursions and drunken Truth or Dare games they'd played back in LaLaLand, the two silly saps really thought being immersed in a sea of naked people wouldn't cause them to bat an eyelash.


And then, as if a giant pink elephant walked into the room, reality set in. They would have to exit that door - butt-ass naked.

Luckily, the two crafty birds had the foul weather on their side and felt perfect just thinking they would simply need their towels after visiting the Jacuzzi. One bravely wrapped the striped terry cloth armor around her waist, exposing obviously embarrassed breasts, while the other princess covered all the fun parts as she attempted to lock the towel securely under her arm. They looked at each other fearfully and quickly opened the door. At first it was, indeed, titillating. The people were an eclectic mix of twenty- to fortysomething couples who were all friendly, nonjudgemental and welcoming (traits the Hybrid owners once believed they employed). Then the warm, bubbling water of the Jacuzzi began calling them and another blatant reality reared it's head: It was time to disrobe and become one of the naked people.

The time passed quickly, and surprisingly, they felt completely safe and comfortable. And once the audacious Abigails decided to get out of their wet bowl of fun and fearlessness, neither of them reached for their towels of uncertainty. Instead they waltzed out of the water smiling and triumphant, knowing the rest of the night was going to be truly memorable. Just then, their gracious flame-haired host walked up to meet them with yet another tasty margarita, and low and behold, his once-welcoming plaid shorts must have been just for courtesy, because they were no more.




January 2005 -
Us Magazine, Life & Style Weekly

Page 82

Halle finds a secret mountain hideaway
Between films, she trades the Hollywood limelight fo a spa by the sea
Imagine a spa so exclusive that the location is kept secrets from patrons until they've booked a room. Sea Mountain Spa, in Malibu Calif., does just that. Even recent guests like Halle Berry did not know the address of this paradise until she decided to visit. The new Palm Springs area Desert Hot Springs Spa hosts the hip and celebrity weddings in the ultra-chic private fashion. The famous come to tan sans-clothing and enjoy the world renowned mineral waters.

The Security: "Guests are screened at the security gate," says Dewey Wohl, the spa's CEO. "We have the best security, helipads and inderground entrances." Now open in SOuthern California and generating the most awesome crowd indulging in European-style tanning and using whirlpool all night long as if they were in Jamaica

The Services: Wohl says stars often stop by for an impromtu dip in one of the clothing optional pools that face the Pacific. In the new desert location they come for the day or the night, no one ever knows who one might see, in their all over! Steam showers and aroma-therapy are available,

but pampering at Sea Mountain is all about massage: reflexology, deep tissue, Reiki, even barefoot Shiatsu. And a massage therapist with a degree in spiritual psychology offers "Zen massage," said to help the body regain balance and peace. All of these services are now offered at the hidden Palm Springs area spa location.

The Setting: Some celebs opt to walk the spa's forested hiking trails, which boast stunning views of the Pacific and breathtaking waterfalls. In Las Vegas the Secret Estate right off the strip indulges their VIP guests with the atmosphere that they can not get at other Hotels or spas.
But what makes a hike blissful is the knowledge that nary another soul will be there to obstruct the view. "If Leo (DiCaprio) or Jennifer (Aniston) or Brad (Pitt) were to come, even in the daytime," Wohl tells Life & Style, "there would be no more than 55 people on the property." Sea Mountain Spa, www.seamountaininn.com


Forbes Magazine 2007
Forbes Magazine reports that nude vacationing is the fastest growing trend in the travel industry. One hot destination is Sea Mountain Resort near Palm Springs. Catering to women and couples only with an all-female staff, the luxury resort attracts guests and celebrities from all over the world. The resort boasts almost 100 percent occupancy rates with high end 5 star rooms in the $249 to $899 range. The resort has the world's only 24-hour dance lounge, and all of their pool and spa areas are open 24/7.

The resort also has natural mineral waters that are exclusive to the Palm Springs, Desert Hot Springs area of Southern California. With theme weekends and friendly crowds, the boutique hotel often has a month-long waiting list for their rooms. Visitors come from around the globe for a day spa, a night spa or to stay for a week. Offering "au naturel" vacations with a romantic twist, the Sea Mountain Resort is a unique alternative. The owners are now planning to open upscale nude resorts in Miami, Las Vegas, San Francisco and Rosarito, Mexico. It's the place to go if you want to wear nothing but a smile! Click here for the Sea Mountain Resort's web site.


Additional Reviews Selected from our Archives -

MSN.com
Best Celebrity Spa IN the USA - First was the Malibu Retreat and Now Beverly Hills Day Spa - our choice of the top ten on the USA and 2005 Desert Hot Springs Palm Springs Top ten celebrity spa USA

The Weekly 2005
The sea mountain inn has become the premier destination for those seeking clothes free retreat and the sea mountain infamous massage therapies. Among the top 10 whose list includes 1000 waves, Ventana Inn, Sea Mountain inn is the match

Paris Match 2005
... and the best place we have found in California for single women or couples is the Sea Mountain Inn - Numerous celebrities movie stars -rock people and people who enjoy the super clubs like Hedonism in Jamaica are there. Various ages there is no one certain type at this palace of indulgence. we entered a wonderland of peace-art-clothing optional Zen and even a 24 hour club we danced in the day and retreated for the tandem the side by side massage and as we drove towards Los Angeles we looked back and wondered why we did not stay the night. Nothing in the USA seems like this - Excellent

Woman's Day 2005
Top ten list Best retreat spa as a single woman safe-clean-secure-and friendly upscale clients

Time Out UK - 2004
The best day spa in Los Angeles incredible private baths for couples who want to luxuriate together. AN ethereal experience-World class designs .We have yet to see finer massage rooms more like palaces of pleasure for the senses. Be who you want . Be with whom you want. Wear as little as you want and Sleep and Dream In the ultimate therapy suites-We also reccomendf the evening spas the ultimate romantic eve of massage,bathing, dinners, and bliss.

Vendie - Italy - 2005
The Sea Mountain Spa of Beverly Hills has become the premier california spa destination for the discriminating love of pleasure. Many suites with Asia Thai art that should hang on the walls of museums. Elegant bedding in the spa suites incredible sounds and sense.When you enter there is mist and sound and buddhas for this elegant day spa. Not too hip for the room but way too hip for the city!

Tokyo Times - 2004
A must stop for all visiting Beverly Hills -The Sea Mountain Spa is re-writing the book on Spa and massage. Fusion of colors and fabrics create the ultimate palace for relaxing. We saw four Academy Winners in a day And Many couples who are allowed to massage,bathe and retreat together as a couple.Couples may also be european style clothes free in thier own private treatment suites that include private soaking tubs. A refreshing concept for the new society in motion. The finest massages and bath treatments with elements of 19 countries in their treatments. Unique evening spas too for couples with dinner or lunch. A very new concept we have been told they have been sold out for 40 weekends prior. Our 5-Diamond Ranking. The sea mountain Inn the adults only desert retreat was given 5-diamond ranking

Citysearch.com
Average user rating 9.9 - Highest rating 2005

Playboy Inc.
2005 Sea Mountain Resorts are the best place to enjoy a clothes free hip experience 9 out 10

Tripadvisor.com
Superior excellence - Best treatments in Los Angeles - 5 Star ranking.

Los Angeles Guide
Where to pamper yourself - "This spa is very in the know, they won't even give you their address until your private appointment is made." Designer spa suites - Ultra Plush for One or for incredible romantic days. Many single women on reteat in this safe secure hotel. Small but wonderful

Malibu Magazine
The awarded Sea Mountain Spa is not like most resorts, it's practically like stepping into the FBI witness protection program - Albeit incredibly Plush - Having to request an invitation to a spa seems presumptuous however this Asian infused uber spa is so conducive to meditation - romance or treatment the balance is found. The services shadow other Beverly Hills Spas - Highest recommendation

See what is being said about the Yuki Sharoni Salon our beverly hills sea mountain spa location

Allure Magazine This salon whose clients include - Julia, J.Lo, Kim Delaney, Illeana Douglas, and numerous others. The upstairs is devoted to incredible facials, manicures, and world famous body treatments such as this one, which Mikiko Kang learned to do in her native Japan. After a soak in an eight-jet tub bubbling with seaweed powder, it's up on a table for exfoliation. A rain of hot water from an overhead Vichy shower keeps you toasty (chills being the bane of most body scrubs). After Kang rinses you off, she offers you Susan Ciminelli's Marine lotion to moisturize skin that now glows like a pearl. Asked if the salon sells the scrub, Kang answered, 'No, I make it myself,' and told us how. What, no product push? Now that's relaxing. Dreamy treatment rooms include couples rooms with bathtubs in each room and designer finishes like a 5 star hotel for a couple of hours of Peace - Allure Staff, August 2003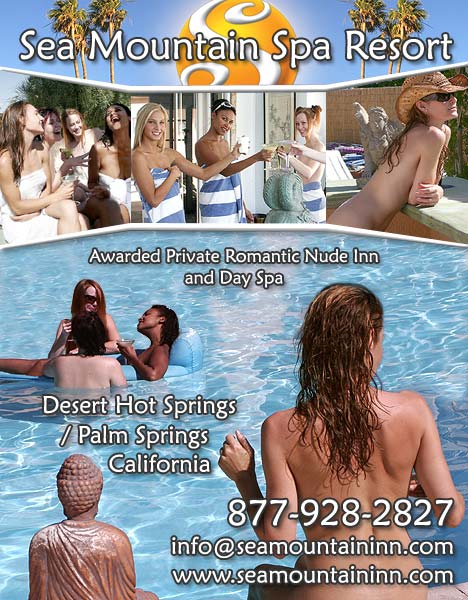 Sea Mountain Ranch Resort and Spa Palm Springs Desert Hot Springs California

Sign-Up for our VIP list -

Get VIP discounts for California Sea Mountain Inn - Spa Free Passes - Day pass special events - Private Evening VIP events at Sea Mountain - Free Sea Mountain day spas - Exclusive passports - Weekly discounts - We give away vacations every day!

Enter to win weekend vacations!
Email:



We respect your privacy. We do not rent or sell any addresses collected to any third parties.